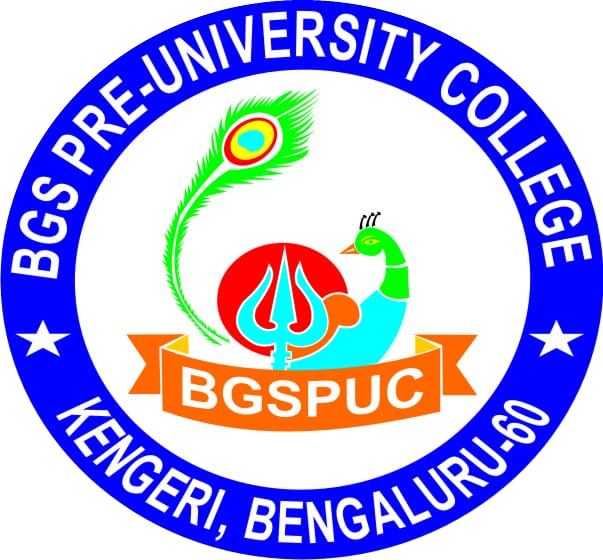 BGS Pre-University College, was started with the divine blessings of his Holiness Jagadguru Padmabushana Sri Sri Sri Dr. Balagangadharnatha Mahaswamiji, His Holiness Jagadguru Sri Sri Sri Dr.Nirmalanandanatha Maha Swamiji, which was rapt by the well bureaucrat Sri Sri Dr.Prakashnatha Swamiji. It is a pre-university college in Bangalore, Karnataka, India. It is affiliated to Karnataka Pre-University Education Board. Our Institution not only infuses domain knowledge into the students it is always mounted to provide education that embeds in every individual a sense of professionalism, astuteness and sincerity. By imparting a high quality holistic and value based education by adopting the latest pedagogical tools and support with the help of competent and qualified faculty to meet the demands on management professionals to deliver on organizational expectations have compounded manifold. True management professional needs to strive and set benchmarks of achievement that resonate as milestones of the institution.
We are committed to make deep social impact using technology-enabled education. Towards this end, we offer massive Pre-University Course under different streams.
Our Vision:
Maintain a high standard of integrity and performance foremost to the achievement of academic and professional goals and also serving enthusiastic, independent thinkers and learners striving for personal growth.
Our Mission:
Provide general, lower division coursework leading to an associate degree in the commerce or science and grant opportunities for students to develop a global perspective through a curriculum with international and multicultural applications.
Highlights of the College
Experienced and highly qualified Staff members.
Well equipped labs with 30 computers.
24 hours internet (10 Mbps).
Library facility with 3000 books.
Placement and training facility.
Conducting inter & Intra co-curricular activities in college.
1800 seaters Indoor Auditorium.
Multi station Hi-tech GYM.
400 Meters track playground and Indoor sport complex.
Canteen: 4 Nos.
Commercial complex with ATM counter.
Transport facility is available.
24 hours hospital facility in the campus.
Insurance cover to all students worth 1.00 lakh.
Separate Hostel facility for Boys and Girls.